Have a book you can't live without?
Something that looked interesting you don't want to forget? An author you stalk? Tell us about it - whether it be knitting, fiction, non-fiction - we want to know about them all!
August 13, 2005
Hideaway
I just finished the book Hideaway by Hanna Alexander and was amazed that I could not put it down. I finished this long book in a day.
It is about an ER Doctor who watches as her sister codes on the table in front of her and then has to cope not only with the death of her sister but a wrongful death lawsuit form her brother in law.
She finds seclusion in a small town in the ozarks and finds that they love of new friends and old friends can help her find the love of christ and bring her healing .
Posted by Katie C at 10:06 AM | Comments (0)
June 14, 2005
The Kite Runner by Khaled Hosseini
If you can read only one book this entire year, The Kite Runner needs to be that book. (I know that this is such a cliche saying, but I just know that you all would love this book as immensely as I have.)
Before purchasing the book, I was concerned about the setting. What do I know about Afghanistan? Nothing much. My ignorance didn't matter one bit when I started to read. Khaled Hosseini does a beautiful job of describing anything that the reader may not understand, but nothing in this book is difficult to grasp. This book isn't about the politics of Afghanistan. This book is about life. It's about social stigmas, childhood friends, betrayal, guilt, love, and passion.
This amazing story begins with a phone-call. It's an old friend calling our narrator, Amir, who is now 38. The old friend is giving Amir a chance to make himself good again, but he must go back to Afghanistan to do it. Our journey doesn't begin on an airplane, though. First, Amir brings us back in time to his childhood. He pulls us into a world foreign to our own, but into a life that we can relate to. We learn about Amir and his childhood friend Hassan, who loves Amir unconditionally. Hassan always takes up for Amir and protects him from childhood bullies even though he is a year younger than Amir. They are nearly inseparable, until one day when Amir's courage doesn't match up to his friend's. Their lives are changed forever.
The story comes full circle when Amir comes back around to the present time, and the story feels like it has only just begun. The author does not rush an ending, as I've seen many other authors do in the past. He takes his time and tells the story as only he knows how, in the most amazing way.
This book is a journey that I will never forget. I absolutely love Hosseini's writing style and the unforgettable imagery he used. I've never used the word 'powerful' to describe a book, but now I truely understand how powerful and moving a book can be. Hosseini's characters were more than well-rounded. They really came to life for me. This book has a resonance that will be with me for the rest of my life. If you can only read one book this year, let it be The Kite Runner.
This is a wonderful essay written by Hosseini regarding his own trip back to Afghanistan after 27 years. You can get a feel for his writing style and some familiarization with The Kite Runner, without any spoilers.

~atouria
www.yarnyoga.com
Posted by atouria at 08:35 AM | Comments (4)
February 24, 2005
The Wild Swans by Peg Kerr
If you like fairy tale retellings, then this story of the Wild Swans (originally by Hans Christain Andersen) is definitely a must read. It is the story of Eliza, an English country lass and her travails as she goes from the England to the New World to break the spell placed on her brothers. It is also the story of Elias, a young man trying to make a living in New York City after his family disowns him.
The book is well written and characterized, but the best thing is the transitions. Each chapter deals with either Eliza or Elias, and they alternate, making this a good book to read while commuting. Peg Kerr works hard to make the transition from one chapter to the other seamless, so that the switch between characters and time periods is not jarring.
Just a warning though. I have cried my way through the last couple of chapters and the author's afterward every time I have read this book. It is incredibly touching without being overly sappy and romantic.
Posted by Seanna Lea at 08:54 AM | Comments (0)
February 01, 2005
The Time Traveler's Wife
I started this book after reading an review of it on someone's knitting blog. At first I thought, eh, it's going to be too science-fiction-y, but I was wrong. It took a little about 30 pages to get into it, but the book soared beyond my initial take and expectations. Much more than a science fiction story, this is the story of Henry de Tamble and his struggle with chrono displacement disorder, a disorder that makes him inadvertantly disappear and then reappear at different times of his life. It seems very complicated at first, but you learn to get into the swing of things as you read along.
It is in his time-traveling that he meets his future wife, him as an older man and her as a young girl, and you learn of the struggles they must overcome to make their love, and eventual marriage, work. This is truly a love story above all else, but it doesn't fall into the sappy mushyness it could have, and, most importantly, the love story doesn't get lost in the science fiction aspect of the story.
I've been recommending this book to everyone I know; it was that good.
Posted by Lisa at 07:58 AM | Comments (9)
January 26, 2005
War is a Force That Gives Us Meaning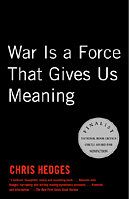 War is a Force That Gives Us Meaning is written by Chris Hedges, a fifteen-year war correspondent and reporter. This, his first book, looks at the seduction and poison of war; how it is integrated into our lives and societies, and points out for us the truths that come from war and the corruption, destruction and perversion that it leads to.
Hedges will tell you "I am NOT a pacifist." This is not a diatribe about the evils of violence, but a profound statement about reality and existence, intertwining morality, philosophy, and personally-witnessed experience.
He has seen children killed in the streets, been prisoner in the Middle East, and immersed in the political turmoil of El Salvador. He lived, worked, breathed with the people who are most affected by war: those being attacked, and those doing the attacking.
I had the opportunity to listen to Mr. Hedges on January 25th, 2005. He gave a speech at my University using information from writing this book. He spoke for an hour, and then answered questions from the audience.
One woman asked how he thought that women in combat would be able to come home and have children after the war. He answered that he didn't know. He pointed out studies showing that more men died from suicide after the Vietnam War than died in combat itself. He said that he would rather not have psychological damage after covering war, and yet it is common."Seeing a dead child after having my own was almost unbearable because I understood the fragility and sanctity of life," he said.
Mr. Hedges also talked about the current war in Iraq being perpetuated by America. He said that "The War on Terror" is nearly illogical and a play of words, because "terror" is an abstraction, and fighting a war on it is fighting a war on an idea.
War, Mr. Hedges says, is exhilirating and often addictive. He told us of many friends he lost, addicted to war and the coverage of it that they could not get out. Men and women in Iraq, Bosnia, and the Balkans who found the seduction and power of war to be too much to break free from. He says "[War] gives us purpose, meaning, a reason for living."
I am reviewing this book because I think that it would be an excellent title for our group to consider reading soon. It is honest, real, and at the same time extremely eloquent and profound. I have learned much from this book about why I feel how I do about war (which I will not mention here because I do not want to push my opinion on others), and how others may respond to war in the manner that they do respond. It will open eyes and hearts and minds, and it may be integral to the continuation of our society.
Posted by at 06:11 PM | Comments (1)
January 03, 2005
Sweater Design in Plain English

Sweater Design in Plain English
by Maggie Righetti

The minute I started reading this, I new it was going to be good. By good I mean that I would a) understand what Righetti was talking about, and more importantly, b) be able to INVISION what Righetti was talking about. One of the skills I haven't quite mastered with my knitting is being able to SEE what a pattern will look like without having it in my hands. I think Righetti has helped me with this immensely. That alone makes it a fabulous book.
Her style is exactly like she says – plain English. No nonsense. To the point. Some may actually find her a little too abrupt, but what she's talking about is important, so I think it might be overlooked.
Some of the most important subjects she talks about are "Understanding the Nature of Yarn," "Achieving the Right Marriage of Fiber, Fabric and Design," "Pattern Stitches and How They Behave," "Getting the Right Gauge," and "Understanding the Arithmetic of Knitting." (The last one was enough to send me into a cold sweat, but it was greatly needed.)
Continue reading "Sweater Design in Plain English"
Posted by Knit One Read Too at 01:08 PM | Comments (1)
December 31, 2004
More on Dubus...
Here is another writer's review of Dubus's short stories--Tobias Wolff in the LA Times Book Review, March 24, 2002, reviewing In the Bedroom. (The full review can probably be obtained from the LA Times Archives. This is the excerpt I posted 3/25/02.)
Reading through the ensemble, I was struck by their plenitude. Part of the pleasure of writing short stories is learning what you can live without. The form relies on an acute, watchful reader--an aficionado, really--who is insulted by fat explanation, fat description, by anything reducible to something more essential; but the consciousness of that scrutiny can lead to a chill, starved sort of story in which the writer seems hesitant to tell you anything at all for fear of being common. I know; I've written a few.
Dubus never succumbed to this anorexic impulse. His language is full-throated, and he's not afraid to linger on the undramatic, even languorous moments in which we define ourselves--conversation over a barbecue, a divorced father driving home alone after dropping off his kids. Dubus takes his time; his stories, like his sentences, tend to run long. But that vigilant reader prowling the flock for bloated stragglers will never catch Dubus out, because at his most complex, he is still irreducible.
Thank you for reminding me of this writer, Cara, and that I must finally actually read his stories!
Posted by JBB at 06:36 PM | Comments (0)